---
CR Team Rider Daniel Hughes
Check out Daniel's suit in the SUP section
---
NEW PRODUCT ALERT!
Coral Reef Titanium Thermoflex® 2013 Retro-Style Surf Vests
Professional Grade - Glued & Blindstitched
Made in USA!
Extra Long 2 inch butt flap on back, to keep from being sunburned while sitting on board.
Protect your ribs from hours of surfing
Sizes available: ML LG XL
XXL - Spec order - add $10.00
2mm Compare at $59.00 - Direct Price $39.95
Colors Available: Call for current colors in stock!
---
---
New for 2013
100yr Anniversary George Freeth HB Pier T-Shirt
Coming Soon!
Back of shirt
Front Left Pocket
---
MasterChef Gordon Ramsey "Surfer Challenge" episode coming out Spring/Summer 2013
Huntington Beach Pier
Tony with MasterChef star Gordon Ramsey
Tony with MasterChef producer Whitnee Null
Tony with MasterChef wardrobe manager P.J.
HBLCs Don Bigaloo
Huntington Beach Longboard Crew on the set!
Shane, Tim, Don, Mickey, Gary
Tony, Don, Tim, Gary, Mickey
HBLC's Tim McCullan
HBLC's Tim McCullan & Gary Sahagan
---
2013 Huntington Beach Pier Paddle!
---
We couldn't agree more! Well said, Corky Carroll!
---
Gathering of the Tribes 2013
Jan 6th & 7th - Church Beach
Congratulations to Coral Reef Team Riders!
Guy Takayama - First Place
Mike Emerson - Third Place
---
Tony Jones with Coral Reef Team rider
Olympic gold medalist Greta Anderson
Greta Anderson's Swim School 714 846 7488
www.gretaandersenswimschool.com
Read more about Greta's incredible life story
---
Tony Jones with surf music icon Dean Torrence
and some KILLER shots taken by Dean at Coral Reef Wetsuits
---
Coral Reef at Bolsa Chica State Beach for the shoot of an upcoming episode of 90210
---
Surfers remember announcer Mike Morgan
Read the story here
---
Huntington Beach Longboard Crew - Christmas Party 2012
---
Tony Jones, Don Craig, Nat Young, John Grannis, and Mary Biggler
at Oceanside Surf Museum
---
Coral Reef goes to Hollywood!
This is part of the HSN Network's
"The Guilt Trip" LIVE Event
The first 300 people who registered for this event had the opportunity to pitch one idea in person on November 17. Coral Reef & the Outback Series Solar Surfboards were there!
The top ideas from both the in-person event and the online Live Product Search will be presented to HSN for licensing and development consideration on December 4.
HSN and Edison Nation will narrow down the top ideas to five finalists and one of the actors from "The Guilt Trip" will select the final invention.
The selected inventor will have the opportunity to appear on HSN on December 23 to talk about their inventing journey, and their product will be manufactured and/or licensed and sold at HSN!
---
COMING JUNE 2013
DISASTER SUPPORT SYSTEMS
WATER RESCUE SOLAR CHARGING SAFETY FLOATS
THE
RFC
RESCUE FLOATING CHARGER
Professional Water Rescue Charging Station for extreme weather conditions.
---
Donald Takayama Memorial Paddle-Out
Oceanside Pier - 11/10/2012
---
RIP Donald Takayama
1944 - 2012
Surfline has a very cool article/slideshow posted.
You can view it by clicking here
Here is a very cool shot of Coral Reef's own Tony Jones along with Donald & Rabbit Kekai celebrating their November birthdays dining on steak & lobster in Manhattan Beach.
Also along for the party were Hap Jacobs, LJ Richards, Ray Kunze, Linda Benson, and many others.
---
5th Annual Huntington Beach "Blessing of the Waves" draws nearly 3000 people!
Read the story HERE
Watch the video HERE
---
Malibu Surfing Association's MSA Classic Invitational
First Point, Malibu
September 7-9, 2012
1-3' glassy and sunny
COMPLETE RESULTS

1. (WSC) Windansea Surf Club
2. (MSA) Malibu Surfing Association
3. (HLA) Hawai'i Longboard Association
4. (CSC) Cardiff Surf Club
5. (HRSC) Hope Ranch Surf Club
6. (VSC) Ventura Surf Club
7. (OLSC) Oceanside Longboard Surfing Club
8. (SBSC) Santa Barbara Surf Club
9. (MBC) Malibu Boardriders Club
10. (LBSC) Long Beach Surf Club

- - - - - -
Men 13 & Under
Nathan Strom - (CSC) Cardiff Surf Club
- - - - - -
Men 14 - 19
Trae Candy - (SBSC) Santa Barbara Surf Club
- - - - - -
Men 20 - 29
Harrison Roach - (WSC) Windansea Surf Club
- - - - - -
Men 30 - 39
Kevin Connelly - (LJSSA) La Jolla Shores Surfing Association
- - - - - -
Men 40 - 49
Rudy Judaleana - (VLF) Virginia Longboard Federation
- - - - - -
Men 50 - 59
Paul Smith - (HLA) Hawai'i Longboard Association
- - - - - -
Men 60 - 69
Neal Norris - (HLA) Hawai'i Longboard Association
- - - - - -
Men 70+
Ron McLoud - (WSC) Windansea Surf Club
- - - - - -
Women 13 & Under
Honolua Bloomfield - (HLA) Hawai'i Longboard Association
- - - - - -
Women 14 - 19
Tory Gilkerson - (VLF) Virginia Longboard Federation
- - - - - -
Women 20 - 34
Rachel Graham - (SCLU) Santa Cruz Longboard Union
- - - - - -
Women 35 - 49
Miranda Joseph - (WSC) Windansea Surf Club
- - - - - -
Women 50+
Jericho Poppler - (LBSC) Long Beach Surf Club
- - - - - -
SurfAid Cup Malibu
Malibu Mavericks / Michelle LeBlanc, Captain
- - - - - -
Malibu Noseriding Open, presented by Deus Ex Machina
Harrison Roach
- - - - - -
Malibu Longboard Tag, presented by HippyTree
Virginia Longboard Federation
---
23rd Annual Dale Velzy Surf Contest
---
Tony Jones @ The induction of Rabbit Kekai into the surfing hall of fame.
---
CR TEAM RIDERS featured in ESPN.com article!
Kameron Brown, Noah Cardoza, and WORLD CHAMP Taylor Jensen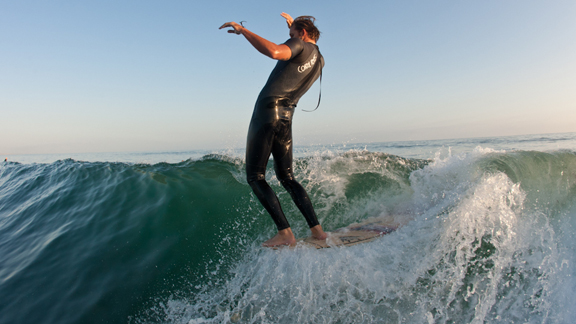 Read the article and catch the photos of Kameron, Noah, and Taylor
---
Huntington Beach local Johnny Denney takes a drop into the Coral Reef dunk tank for the fundraiser. Johnny belongs to the Huntington Beach Longboard Surfing Club and saved a child in the surf about a week ago.
WAYNE MAH FOR THE ORANGE COUNTY REGISTER

Read the full story and see more pics
---
Coral Reef team rider Meg Roh featured in the OC Register!
Meg Roh, 13, goes surfing at San Onofre State Beach before going to school.
Meg, who started surfing with her dad when she was 4, will have surfed 365 consecutive days this Friday.
She hopes to one day be a world champion.
More photos and the full article
---
CR Team Rider Pastor Charles "Chuck" Carlson
featured in a recent article at
www.tribalsurf.net
Read the full article
---
Terry Martin - A Very Special Evening - Please Join Us.
Legendary shaper Terry Martin passed away last week after a battle with cancer.
Join us for the Terry Martin Project fundraiser to benefit the family.
Sunday, May 20 @ The Ocean Institute
5:00p - 9:00p
Click here for more information
Clockwise from L
Shane Jones, Bill Madena Terry Martin, Tony Jones, Randy Zorns

Terry Martin
1937 - 2012
---
Young surfer trapped on pier piling rescued by HB local
photo courtesy OC Register
Johnny Denney (pictured above) recently saved an 11 yr old surfer from drowning
after his leash was caught on a submerged piling.
Click the photo above to read the story - good stuff!
HB Longboard Crew chairman Gary Sahagen presenting Johnny Denney with
a lifetime membership.
HB Longboard Crew has started taking up a collection to cover the cost of
a solar-power system for Johnny's van. Coral Reef Wetsuits is providing the system
and covering half of the cost. Installation will be at Coral Reef in Westminster on May 17.
If you would like to contribute, contact HBLC or Coral Reef Wetsuits.
---
San O 5/7/12
Tony Jones - Taylor Jensen - Dylan St Germain
---
Tony Jones demos one of the new CR Motorized Bikes!
Check out the entire line at www.crmotorizedbikes.com
---
Ohana Family Day 2012
---
Check out Coral Reef's Surfing Photo-Op backdrops!
3 styles to choose from $129.00 each
---
The Surfrider Foundation Huntington Beach/Seal Beach Chapter and Kohl's Department Stores
hosted Ohana "Family" Day on Sunday, April 22 2012
We had a great time seeing old friends and making new ones!
Mahalo!
---
HB Longboard Crew comes in 2nd!
---
Tony & Shane Jones with one of the original Lords of Dogtown, Jay Adams
Check out the Coral Reef Motorized Beach Cruiser Bikes HERE
---
Coral Reef OUTBACK SERIES Solar Surfboards are
featured in the current Surfline.com SURFWIRE Report.
Click the Surfline logo to check it out!
---
Members of TEAM CR at the last Surfrider meeting
hosted by Don the Beachcomber!
---
Tony Jones and the Coral Reef OUTBACK SERIES Solar Surfboards
are featured in the current issue of Inventor's Digest!
Click the banner above to check it out!
---
Hawaiian Surf Club @ San Onofre
---
Mickey Munoz Book Signing event hosted by Dana Point Yacht Club
Proceeds went to Hobie shaper & cancer patient Terry Martin
---
Check out the George Freeth Replica Boards - Now Available!
George Freeth - circa 1918
---
The Surfwriter Girls article about Coral Reef on the HSB Surfrider website.
See it
---
SurfWriter Girls

Provide information, research and awareness of local and global environmental ocean concerns.
Feature news stories that are interesting and fun.
Promote enjoyment of the beaches and ocean for everybody.
Read their blog about Coral Reef
---
Shane Jones, Tony Jones, surf legend Rabbit Kekai, and Biohazard Surfboards shaper John Folliott
---
Click here to see the CORAL REEF Surf News Archives!